American High School Diploma
User Links →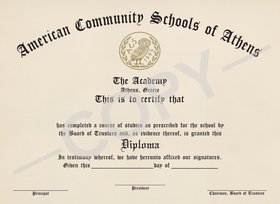 The MSA-CESS accredited program of ACS Athens requires that a student must fulfill the academic requirements of an American Diploma curriculum in order to complete his/her studies at the school.
The American Community Schools of Athens requires twenty-six Carnegie Units to be earned over a minimum of eight semesters for the Academy Diploma. These will include the following:
Four English credits. Classes are taken each semester in grades 9-12. The following courses or their equivalents must be taken.

English 9: Literature or Language and Literature (Regular or Honors)
English 10: Literature or Language and Literature (Regular or Honors)
English 11: Humanities or a year of IB English Literature or IB English Language and Literature year 1.
English 12: Humanities, or a year of IB English Literature or IB English Language and Literature year 2.

Three Years of Greek and/or Modern Language, two years must be in the same language. (It is recommended that students take four years.)
Three years of Mathematics including Geometry with Algebraic Topics (It is recommended that students take four years.).
Three years of Science. (It is recommended that students take four years.)
One semester of Health, preferably in grade 10.
Two semesters of Computer Technology.
Four Social Studies credits. Classes are taken in grades 9-12, including:

European History: grade 9 requirement (Regular or Honors)
American Studies: grade 10 requirement (Regular or Honors)
Plus two full years of Social Studies classes in grades 11-12.

Two semesters of Visual and Performing Arts. Students may elect courses from the Visual Arts and Performing Arts.
Three semesters of Physical Education. All 9th graders must take Physical Education. A third semester must be taken for graduation, preferably in Grade 10.
The remainder of the credits is to be earned through the various elective courses offered in grades 11-12.
The International Baccalaureate Diploma® (Grades 11-12)
User Links →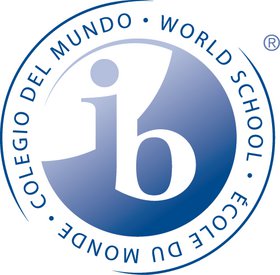 Each IB diploma candidate studies from six subject groups. Three subjects are studied at the Higher Level and three at the Standard Level. Students must take a course from each of the first 5 subject groups and have the option to choose either a course from the 6th group or from any of the other groups. The six subject groups are:
Group 1: Studies in Language and Literature (Language A)
Group 2: Language Acquisition (Language B or Ab initio, second language)
Group 3: Study of Individuals and Societies
Group 4: Experimental Sciences and Computer Science
Group 5: Mathematics
Group 6: Visual Arts, Theatre (or another course from group 1, 2, 3, or 4)
Three further requirements which contribute to the unique nature of the Diploma are:
A Theory of Knowledge class, which unites the various areas of studies and deals with the ways humans perceive the world. This course provides an opportunity for serious reflection about all of an individual's studies. Students are required to write a 1600 word essay during their senior year.
A 4,000 word Extended Essay (EE) based on original research and chosen by the candidate from one of the six subject groups.
The Creativity, Activity and Service (CAS) requirement met through student engagement in various co-curricular activities which involve artistic expression, creative projects, physical activity, and community service.
Theory of Knowledge can be taken as an IB course by any grade 11 student.
In May of each year, students, after having completed their two year program, sit for externally assessed examinations which, are graded on a 1-7 scale: 7 being the highest mark awarded. Students also complete a number of internally and externally assessed or moderated projects, papers, presentations and/or performances in each course. These assessments constitute a percentage of the final IB score in each course. Students will sit for mock exams in IB courses during the final exam periods in grade 11 and the midterm exam period in grade 12.
The IB Diploma is awarded by the IBO if:
CAS requirements have been met.
The candidate's total points are 24 or more.
There is no "N" (non-submission of work) awarded for Theory on Knowledge, the Extended Essay or for a contributing subject.
There is no grade E awarded for Theory of Knowledge and/or the Extended Essay.
There is no grade 1 awarded in a subject/level.
There are no more than two grade 2s awarded (HL or SL).
There are no more than three grade 3s or below awarded (HL or SL).
The candidate has gained 12 points or more on HL subjects (for candidates who register for four HL subjects, the three highest grades count).
The candidate has gained 9 points or more on SL subjects (candidates who register for two SL subjects must gain at least 5 points at SL).
The candidate has not received a penalty for academic misconduct from the Final Award Committee.
The Advanced Placement® Program
User Links →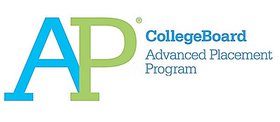 The Advanced Placement® (AP) program has been run by The College Board, a non-profit organization, since 1955. It offers a wide variety of rigorous, analytical and challenging college preparatory courses. Depending on performance, candidates can earn worldwide university credit. The design, delivery and assessment in these courses offer a unique learning experience as it enables students to gain deep understanding of the subject, to develop advanced skills in writing and problem solving and to become actively involved in the teaching process.
The AP program consists of 38 courses from which a student can choose, provided the courses are offered at our school. ACS Athens will offer the following AP courses in the academic year 2018-2019:
AP Calculus
AP Environmental Science
AP Spanish
Courses run for one year, at the end of which students take external, standardized tests provided by The College Board and administered by the licensed school.
The duration of the AP courses, compared to those of the IB, allows the students to design their own unique program that best fits their student profile and academic plans. In many instances, such programs have been proven to be more effective and timely for a great number of students.
Students receive a certificate for each AP course they complete. For each AP exam the student takes, AP courses can help students acquire skills and habits necessary for success in college. The rigor and advanced level of these courses make the AP program widely accepted by universities and colleges around the world. All AP courses are honors level and are designated on the transcript as such.
Greek High School Equivalency Diploma (Απολυτήριο)
User Links →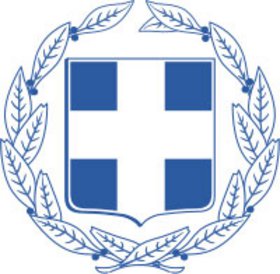 ACS Athens students entering 11th grade (IB1) have the option to apply for the 2-year Greek High School Equivalency course (Απολυτήριο). These students - who must be Greek language native speakers - attend the Greek Language, Literature and History course and must pass the course exams in order to be eligible for the Greek Diploma.