Prices, Payment Options and Benefits
User Links →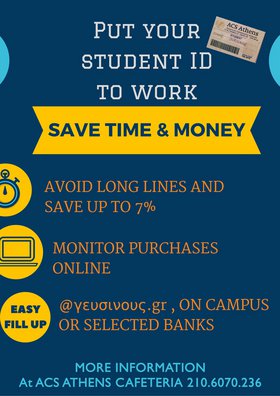 The price for the meal is:
High and Middle School Meals
Daily hot plate big (salad, water and bread included): 5,40€
Daily hot plate small: 4,50€
Elementary School Meals
Daily hot plate natural fruit juice (220 ml)

or bottled water or milk: 4,80€
The pricing policy has been negotiated with the School's Management Team, according to the tender documentation and requirements of ACS Athens. Gefsinus has establised a contemporary computerized system, which can give statistics for your children's daily food/beverage consumption. You can prepay for your children's food for 20 or 60 meals and get a further discount on the meal cost. You can also get a discount for your 2nd or 3rd child in the school. Every child will have its own prepaid meal card, which is necessary for the purchase of meals and also for buying extra snacks, drinks, etc., as approved by their parents.
You can make direct payment to the Food Services Cashier (Monday to Friday, 09:00-11:00) or deposit the monthly amount in the bank for your child's meals, seven days prior to the week's meal period, or pay with credit card. The prepaid card can also be used for purchasing other products except meals, such as snacks, juices etc. This option has a minimum deposit of €10. For each purchase, children will receive the relevant receipt from the Cashier and it will be their responsibility to deliver it to their parents. In cases where invoices are requested, customers should inform the Cashier prior to the purchase.
The Menu of the hot meals is published at the schools on a mothly basis and there is one for Middle School / High School and another for the Elementary cafeterias. The offered food items pricing is also listed in our website. For full hot meals there is a prepayment card which offers a price discount.
The hours of operation are 8:00 to 18:00 at the main cafeteria. The Elementary cafeteria is open only during the lunch time. All students, school employees and parents can eat at the cafeteria areas regardless of whether they purchased the food from the school cafeteria or brought the food from home.
View / download PDF file(s)