Welcome
User Links →
Dear employee,
On behalf of the Human Resources Management, we welcome you as a new employee of the American Community Schools of Athens (ACS Athens) and trust you will find your new position rewarding! We're glad to have you aboard! Congratulations!
We're continuously transforming the way we operate to improve our ability to assist people during the transitional period of coming to Greece. We are happy about you joining us and we want to ensure that you are successful in your new role. We are here to support your transition and guide you through this process step by step so, please feel free to contact us if you have any questions/concerns. 
Instructions on how to secure an entrance VISA to Greece and a teaching permit by the Greek Ministry of Education are provided below - please click on sections A, B and C below. Please read the instructions thoroughly and post your questions here (password: ACS).
To begin, please take some time to complete this form now.
We are very pleased to welcome you to ACS Athens and look forward to working with you!
ACS Athens
HR Department
Important Information
Appointments at the Greek Consulates in the US for the issuance of the VISA take place beginning to mid August. You are advised to contact the Greek Consulate of your jurisdiction the latest by May in order to secure your appointment. 
Please select the competent Consular Authority here.
Here you can find information on:
A. Visa Instructions
B. Greek Ministry of Education
C. Forms
Living in Athens
A. Visa Instructions
User Links →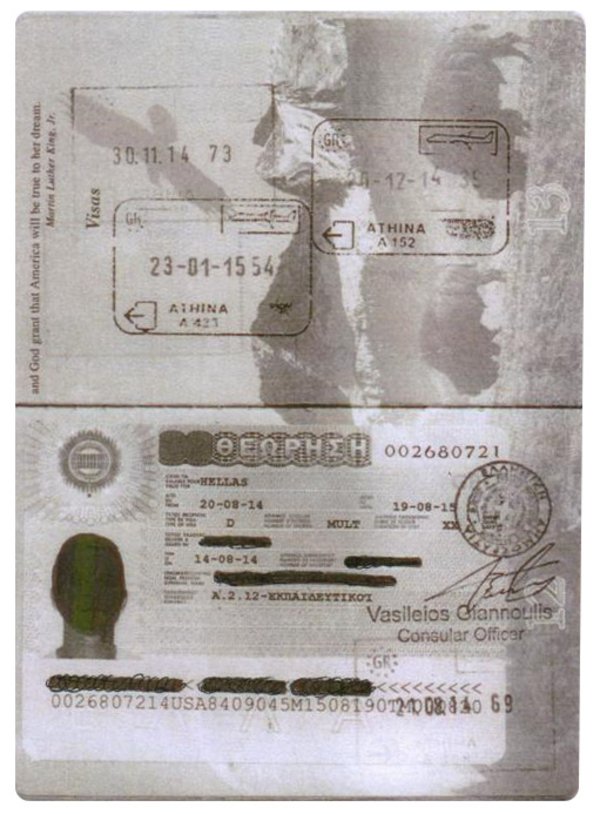 Documents required of USA hired faculty 
To obtain VISA from Greek Consulate/Embassy in the USA
You need to collect the following papers to apply for a VISA according to law 4251/2014 art. 17. Note that the VISA you are requesting is to allow you entrance in Greece to work as a teacher with ACS Athens (Εκπαιδευτικοί Σχολών Αμερικανικής Παροικίας Αθηνών).
Valid U.S. Passport. Please make sure: (I) your passport has been issued within the previous 10 years, (II) that your passport will be valid for at least three (3) months after the date you exit the Schengen States. Same applies to all dependent members of the family (if applicable);
Marriage Certificate (for employees accompanied by children only): two copies are required. The copies should be notarized & sealed with the Apostille stamp;
Original* Birth Certificate – two certificates are required. The certificates should be sealed with the Apostille stamp (applies to all members of the family when applicable). 
The State issues the Certificate and the Secretary of the State - Index Division issues the Apostille stamp. These two entities don't communicate. They are separate entities.
Consulate's Application Form. Same applies to all dependent members of the family (if applicable);
One recent color photograph (2x2 inches). Please note that it must be glued on the application form. Applications with stapled photographs will be rejected. 
FBI "criminal clearance" letter – for dependents as well if they are above 12 years of age;
Letter to the Consulate signed by ACS President certifying your employment;
Greek Government Directives that ACS teachers are hired according to Κ.Υ.Α. 5301/29.03.06 and the initial establishment of ACS Athens through the government;
Bank and credit card statements for the last 3 months;
W-2 forms for the last 2 years;
Official itinerary;
Travel Insurance stating that you are covered in case of a medical emergency;
ACS Athens Contract, in Greek; 

Health certificate consulate form with an original signature affixed by doctor, stating that you are in good health. Tests you need to conduct:

HbsAg
HIV
HCV
VDRL
Chest x-ray
Mantoux
Please Note: Items with numbers 4, 7, 8, 11, 12, 13 will be provided to you by ACS Athens prior to your appointment at the Greek Consulate.
Important Notes:
Your VISA will be valid for one year and is issued for the purpose of getting access to Greece to work as a Teacher with ACS Athens. With a valid VISA you are allowed to travel from the US to Greece and vice versa. It is recommended that you issue it approximately one month prior to your arrival to Athens (mid July). That doesn't mean of course that you should not start processing VISA requirements ASAP (FBI clearance, Health Certificate). Time management is extremely important, and you are strongly advised to contact the Embassy/Consulate close to your Home of Record to make an appointment for your application in July. 
Immediately upon your arrival in Athens, we'll start the process of applying for your work/residence permit. This is a time-consuming process that involves heavy bureaucracy. That means that there are limitations to travelling outside the country. 
IMPORTANT NOTES ABOUT THE VISA APPLICATION:
The Consular Office reserves the right to ask for further documentation, in addition to the above mentioned.
The applicant has to provide a set of photocopies (to the Consulate) of the above original documents.
All visa applicants must appear in person in order to submit their application at least two weeks prior to their trip.
Once the visa has been approved and issued, the Consulate can mail your passport to your residence if you provide them with a prepaid express envelope only from the post office (FEDEX, UPS, DHL etc.).
Minor children cannot apply for their own visa. Both parents have to give their consent in person.
IMPORTANT NOTE ABOUT PAYMENT METHOD:
The Greek Consulate Authorities in the USA accept only cash and money orders.
To locate and contact the Greek Missions in the USA, please visit this link.
IMPORTANT NOTICE: PLEASE KEEP YOUR FLIGHT TICKET WHEN YOU ARRIVE TO GREECE. DO NOT DISCARD IT.
FBI Clearance
The first and most important step is to obtain a background check from the Federal Bureau of Investigation. Please read the instructions very carefully and do not hesitate to contact me whether you have any questions/concerns or need any clarification. You will need the FBI clearance to apply for the VISA entrance to Greece at one of the Greek consulates in the U.S. and to later obtain a residence permit in Greece. Please, begin the process of obtaining an FBI clearance the soonest possible.
You are advised to proceed with this agency since they are very fast and reliable.
FBI Clearance Guide
What is an identity history summary
An Identity History Summary—often referred to as a criminal history record or a "rap sheet"— is a listing of certain information taken from fingerprint submissions kept by the FBI and related to arrests and, in some instances, federal employment, naturalization, or military service.
If the fingerprint submissions are related to an arrest, the Identity History Summary includes the name of the agency that submitted the fingerprints to the FBI, the date of the arrest, the arrest charge, and the disposition of the arrest, if known. All arrest information included in an Identity History Summary is obtained from fingerprint submissions, disposition reports, and other information submitted by authorized criminal justice agencies.
The U.S. Department of Justice Order 556-73, also known as Departmental Order, establishes rules and regulations for you to obtain a copy of your Identity History Summary for review or proof that one does not exist.
Only you may request a copy of your own Identity History Summary (or proof that one does not exist). You would typically make this request for personal review, to challenge information on record, to meet a requirement for adopting a child, or to meet a requirement to live, work, or travel in a foreign country.
How to Submit a Request
The FBI offers two methods for requesting your Identity History Summary or proof that one does not exist.
Option 1: Submit your request directly to the FBI here.
Option 2: Submit your request to an FBI-approved Channeler. Find the list here.
An FBI-approved Channeler is a private business that has contracted with the FBI to submit your request on your behalf. Contact each Channeler for costs, processing times, and availability in your area.
Review some frequently asked questions here or contact the FBI Office at 304-625-5590 if you have questions regarding your Identity History Summary Check.
Current processing time is 13-15 weeks. Allow additional time for mail delivery.
PLEASE BEGIN THE PROCESS OF OBTAINING AN FBI CLEARANCE ASAP!
You may find all relevant information here.
B. Greek Ministry of Education
User Links →
Apostille Stamp Information
Greek Ministry of Education Instructions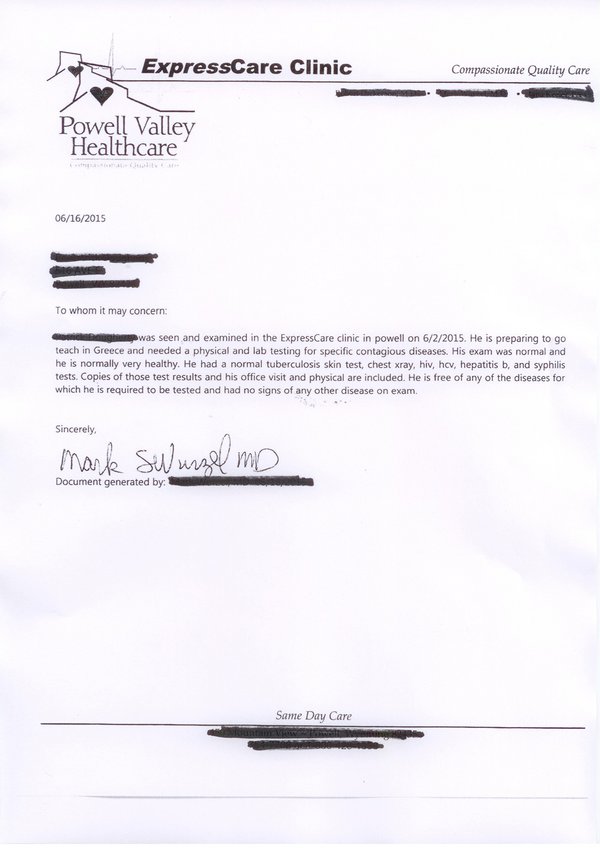 You need to send the following documents to us to secure approval from the Greek Ministry of Education to teach at ACS Athens.
A notarized photocopy of your academic diploma, sealed with the Apostille stamp;
A notarized photocopy of your valid Teaching Certificate (check expiration date), sealed with the Apostille stamp;
A notarized photocopy of your valid passport sealed with the Apostille stamp;
A one-page Health Certificate from a competent U.S. medical authority, in hospital letterhead, that you are free of any contagious diseases. Tests you need to conduct are HbsAg, HIV, HCV, VDRL, Chest x-ray, Mantoux. A hospital or official public health center in the U.S. may issue the above-mentioned documents. Once issued, please have one (1) copy notarized and sealed with the Apostille stamp. The notarized copy of the Health Certificate is intended for your Greek teaching license.
NOTE: Apostille Services Referrals:
OneSource Process: Please use the code "Athens20" to receive a 20% discount.
Express Apostille Services: Please use the code ACS-GR to receive flat-rate services
Please be aware that some of the documents need translation into Greek language. Please consult with the HR Department.
C. Forms
User Links →
Verification of Previous Employment
Please ask your previous employers to complete this form and return a signed copy to the HR Department (one form for each employer).
Employee non-disclosure Agreement
An NDA is a legally binding document that incorporates the GDPR regulation and prohibits someone from sharing information deemed confidential. The confidential information is defined in this agreement which includes, but not limited to, any material, knowledge, information and data (verbal, electronic, written or any other form) concerning the school or its businesses. You are required to sign the NDA form and return an electronically signed copy to the HR Department.